Case Study: Fantasy Cricket Platform | Indus Games
The desire to leverage more than two decades of successful gaming industry experience that is spread across 20+ global markets, to launch a skill-based Fantasy Sport business initiative has been but a natural extension. Our clear intent to harness the immense potential of the Indian market, which is our home ground, finds itself taking shape through a Cricket based Fantasy Sports offering for an extremely passionate domestic audience.
Hence, we launched India's most engaging fantasy cricket platform in June 2017 by the name of Indus Games. Indus Games is essentially an online fantasy sports platform, catering to the major and most avidly followed sport in India – Cricket.
It is an online game wherein the user creates a virtual team comprising of real cricket players and scores points depending on how the chosen players perform in real life matches.
For a user of the Indus Games fantasy cricket platform to win a tournament, he must work towards attaining maximum points and reach the No. 1 rank on the leader-board.
Development of a skill-based fantasy gaming platform
When revamping Indus and developing a skill-based fantasy gaming platform, we faced a number of hurdles that had to be surmounted.
While we had inherited a really good legacy platform that supported cricket, we wanted to build a gaming platform that could support and cater to at least 4 to 5 different sports like Cricket, Soccer, Kabaddi etc.
For this, we had to design, develop and migrate to a totally new architecture; a process that posed several challenges to the Team.
Fundamental Requirements of the proposed new architecture
Ease of adding new sports

Ease of changing the feed providers

Scalability

Ability to support different business models

Ease of maintaining the new platform
Challenges that we overcame while migrating to the new architecture
The legacy platform had a 100K+ user base that used to regularly utilise the system. So we had to make sure that any radical changes that we made in the system wouldn't adversely affect the existing customers in any way.

The database had to be remodelled, as it wasn't found to be optimal in the new scheme of things. However, while migrating the database we had to ensure that the existing customer data doesn't get lost.

The team had some stringent deadlines to be met, for the migration to be completed. This was due to the fact that important tournaments like IPL and FIFA World Cup were around the corner, for which we wanted our systems to be ready with the new architecture.
A new offering for customers
Internet users are always on the lookout for something new and unique.
Thus, we worked on devising a concept that would be distinct from other fantasy websites.
USP of our Platform
In-Play option: This option provides the players with additional engagement to participate in our fantasy leagues whilst the match is going on.
A user can opt to select his team for every 10-overs in a match – possibly a "first-of-its-kind" in this segment!
Swap Leagues: At regular intervals throughout the match, a user can swap out one or more players. Depending on the league, one can also swap out one's captain/ vice-captain.
Pool Leagues: Even if the leagues aren't full in pool leagues, users can still participate since our game-engine allows one to go ahead with one's own leagues.
Quite simply put, more leagues correspond to more prizes!
Fair Play
Fair Play is the most important, essential and critical requirement of any skill-based game.
It is our driving principal, as enshrined through a quality policy to comply with Fair Play terms, thereby making sure that the users are not being cheated.
This ensures raised credibility levels of our fantasy cricket platform amongst the user community, further elevating our popularity in the market.
Marketing Challenges
Positioning: To be a leader in the fantasy cricket space in India.

Branding: To create a theme that feels Indian, "Lagaan-esque" and providing maximum available variations in a fantasy cricket platform. This is our USP.

Targeting: Reaching out to the right target audience within Indian boundaries.

Competition: Establishing Indus Games as a top brand and competing with the leading existing players who have been entrenched in the industry for a while.
How did we tackle them?
After researching the Industry trends, we realized that the whole business works on 'volume of users' on the platform and recurring users and frequent spenders will generate most of the revenue.
It was vital to develop an engaging fantasy cricket platform for users to get back to the website daily or at least before each live match, for Indus Games to be successful in this highly competitive industry.
We believed that the right target audience that would aptly meet our requirements would be consumers of social media platforms. Hence we started advertising our product on various social media platforms, to get our message across to them.
What We Did
Created a TVC Ad campaign on a prominent sports channel in India that was aired during a well-known T20 International league

Created a posting schedule that matched real-life games so as to begin interaction with potential users on social media

Created specific match related website-traffic based Ad campaigns that encouraged users to visit the website

Created an influencer driven marketing campaign throughout the duration of IPL and beyond, which accelerated registrations and enhanced brand visibility

We refined the target audience, messaging &

creatives

very carefully and successfully penetrated the market by way of social media campaigns.

Email Marketing campaigns were done based on player profiling and we targeted users based on their website behaviour

We collaborated with influencers related to this industry who could talk about our website and encourage their followers to register and play. We created a dedicated dashboard for them to track their performance
Social Media Promotions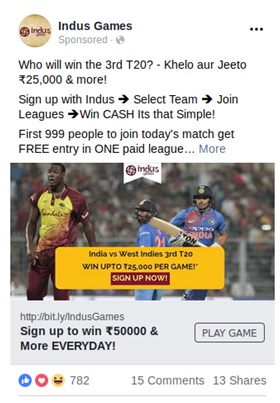 Results
Within 18 months, we went from 0 registrations to 2,04,000+ registrations

About 40% of these registrations came via the efforts of online Influencers

We are one of the fastest growing fantasy cricket platforms in India

Our USPs have been highlighted and this has increased "positive word-of-mouth" among the user community

The design of our gaming platform has been widely accepted and appreciated by users

The ease of play has also been commended by users, especially the direct path that we provide them to instantly start playing

Basis the successful launch of our fantasy cricket platform, we are planning to work on a white-label fantasy sports platform, as a solution for international markets