Octopus – The iGaming Platform for all your Gaming Requirements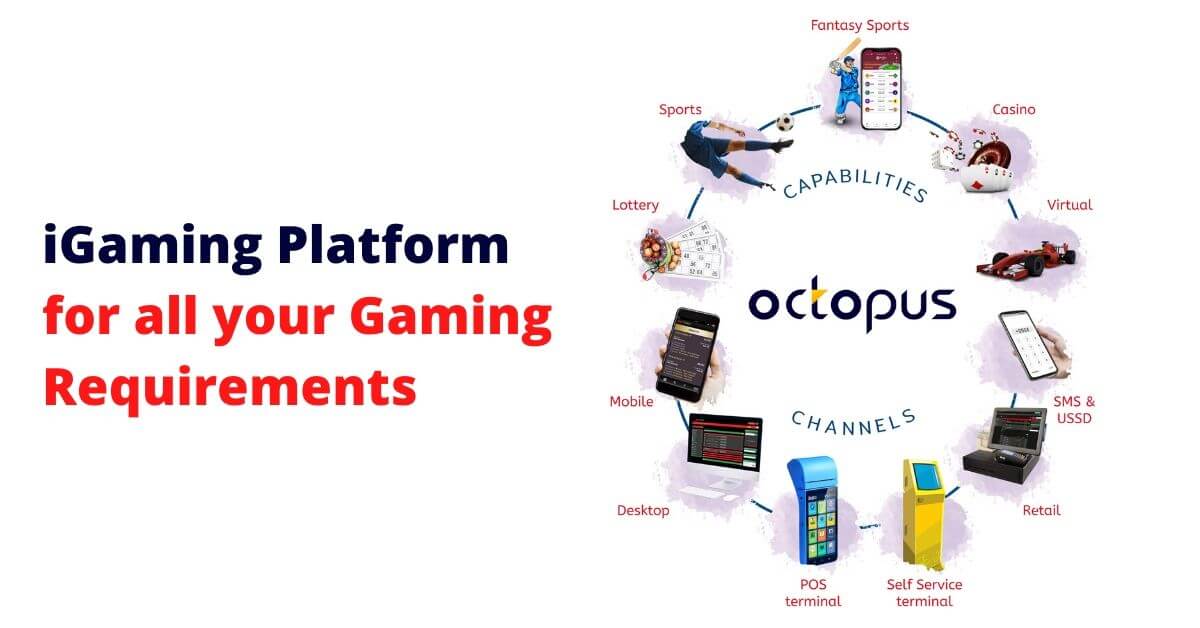 The iGaming industry is currently moving at a brisk pace, with vast technological changes. In such a scenario, the challenge faced by iGaming platform providers is to constantly be on their toes and keep up with these changes.
This is where Dusane Gaming and its flagship Octopus iGaming Platform stand out. An all-in-one iGaming platform that is secure, scalable & highly customizable, Octopus is quite simply a standout product in the iGaming landscape which endeavours towards being a one-stop solution for all the gaming requirements of gaming operators.
Dusane Gaming strongly believes that there is no better way to stay ahead of our competition than being innovative & bringing flexibility into the picture and this is where Octopus trumps other similar products!
OCTOPUS – The All-in-One Intelligent iGaming Platform
A highly modular, powerful, innovative, feature-abundant and open architecture based iGaming platform, Octopus comprises a single admin panel and multi-level support. Octopus seamlessly integrates with any third-party products as per the customers' or market requirement of operators.
Key Aspects:
Complete Customization Support
Unique Brand Identity
Integrate with Existing Systems
Multi-language, Multi-currency Support
Comprehensive Gaming Portfolio
Boasting one of the most exhaustive gaming portfolios among iGaming platforms, Octopus incorporates all Number Games – Keno, Lotto, Bingo, Digit; Casino Games – Poker, Blackjack, Baccarat, Roulette and more; Slot Games from leading content suppliers and Sports Betting – both real and virtual.
Online Lottery
Live Casino
Online Casino
Virtual Sports
Fantasy Sports
Sports Betting (Pre Match and Live)
Host of Innovative Features
Octopus comprises a wide range of innovative features on 4 main gadgets; namely PC, Mobile, Tablet & IPTV, to engage players with a seamless anytime/anywhere experience. The features are subject to built-in limitations of the gadgets.
The platform can be integrated with any compatible:
CMS
Games provider
Sportsbook provider
Payment method
Affiliation system
Accounting systems
Seamless Integration with Third-Party Products
The Octopus iGaming platform can seamlessly integrate with any third-party products that the Operator may be using.
CMS
Payment Gateway
Affiliate System
Solutions Designed to boost Player Engagement
Octopus consists of a wide array of solutions that have been specifically designed to improve player engagement & interest.
Gaming Intelligence Marketing
Risk & Anti-Fraud
Payment Methods
White Label Management
Online Affiliation
Player Wallet
Cloud
Recommendation Engine
Virtual Assistant
Accessible across the Three Main Channels
The Octopus iGaming platform can be accessed across the following three channels:
Online
Mobile
Retail
How Octopus will benefit African markets
Recognising the potential and the continuously rising graph of the African Gaming industry and having worked in the African continent for more than a decade, we saw a demand for an integrated iGaming platform that would provide a complete solution to Operators.
This made us leverage all our extensive market knowledge & experience to create Octopus, with its wide range of innovative features & flexibility.
Taking into account how the African markets are growing with regards to the gaming industry, the wide array of services & features that are a part of Octopus will significantly help African operators in improved customer acquisition & revenue generation.
Conclusion
The Octopus iGaming platform sets high standards for the iGaming industry and is built on the core objective of being a one-stop solution for all the gaming requirements of operators. Dusane Gaming is continuously in the process of adapting to new technological changes and enhancing the various facets of the platform.
Quite simply, if you are looking for a reliable & technologically advanced iGaming platform that can meet all your gaming requirements, then Octopus is just the platform for you!
For further information, please reach out to us at [email protected].